Hedgehog Housing
Hedgehog housing and cage style is a topic that has a lot of differing opinions. We have experimented with a number of various housing options since we acquired our first hedgehog in 1994.
We started out by using aquariums to house our hedgehogs. We quickly realized that we were not real fond of aquariums as hedgehog homes! Although they do protect against drafts, they also hold moisture.
Particularly troublesome are the perpetual hedgehog "fingerprints" that must be cleaned off the glass! In addition, aquariums are difficult to transport for cleaning and break easily.  Most bothersome, is that your nocturnal little hedgehog will spend much of the midnight hour going clunk, clunk, clunk, with his water bottle against the aquarium glass!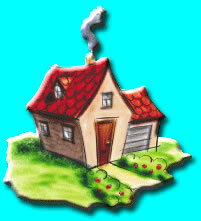 Recently, some folks have proposed the idea of using Rubbermaid style storage bins for housing hedgies. The economy of this idea is intriguing, bu the practicality leaves much to be desired. All of the above mentioned problems associated with aquariums still remain. In addition, there is the problem of ventilation. Those subscribing tot his housing option suggest drilling ventilation holes in the container. We do not see how enough holes could possibly be drilled to provide adequate air flow for our arid desert dwelling buddies!
Some have even suggested that if the water bottle is mounted to the exterior of the bin, (to prevent climbing out), then the top can be left off of the container. We tried that with a hedgeohog called "Wanda". It took her only a short time to figure out how to escape from the open container. Our little Wanda went "a wandering"! She was recovered after being loose a day and a half in our home. This is not the sort of risk that we want to take with our hedgies! We quickly nixed the storage bin cage idea.
We discovered that WIRE CAGES have a lot of advantages for housing pet hedgehogs. They are well ventilated and lightweight. However, we have had difficulties finding any commercially available cages that are satisfactory. The rabbit style cages won't work because hedgehogs are uncomfortable on the wire floors. Guinea pig cages are better but the wire bar spacing always seems to be too large. Your baby hedgehog can easily get his head caught in a wire cage with too large of wire.
To eliminate these problems, we designed and  had a line of 
WIRE CAGES specially commissioned and built for us.
We are pleased to be able to offer these set ups to our customers.
Custom Hedgehog Cage Set Ups
We stock and recommend our own custom hedgehog cages. These galvanized wire cages are manufactured to our specifications. They feature bar spacing of only 1/2″ which is difficult to find in pet stores, and necessary for young hedgehogs! Our cages include rust retardant galvanized pans. The pans are easy to remove from the wire top by unclipping the spring loaded latches. All three cage designs feature "top loading" access to your hedgie & his cage area. The cages are hedgehog escape proof when securely locked with the spring loaded latches.
All of our cages are sold as complete hedgehog starter set ups

They include the following items:
♦ Water bottle & hanger ♦ Crock style dish
♦ Sterilized corn cob bedding
♦Litter box  & litter ♦ Sleeping tunnel
♦Our detailed hedgehog care booklet
Plus a 1lb bag of SPIKE'S DELITE PREMIUM HEDGEHOG FOOD!!!
ALL THAT YOU NEED TO GET STARTED!

---
STARTER CAGE SET UP
This cage measures 20″ x 16″ x 10″

The water bottle securely attaches to the outside of the cage. This makes it easy to quickly refill & prevents the hedgehog from making nocturnal noises with i!
Economically Priced at Only $75
---
STEP UP CAGE SET UP
This cage measures 24″ x 16″ x 10″

This cage is larger that the starter set up. It comes will all the items included with the starter setup… plus it includes a clamp on MINI Healthy Hedgehog Whisper Wheel.
We have not met very many hedgehogs who don't love to run on their wheels!
Not only are they healthy, but they are great fun for you and your hedgie!
Our Wheel design is superior to any we have found.
Visit our Whisper Wheel Page to find out why!
Step Up Set is priced at only $100 Complete!
---
DELUXE HEDGEHOG CAGE SET UP
This cage measures 28″ x 16″ x 14″

This is our favorite hedgehog housing solution! 
The cage features a multi-level design which has a loft & access ramp.
It includes all of our usual hedgehog paraphernalia… and due to the increased height, we are able to include our larger original Healthy Hedgehog Whisper Wheel.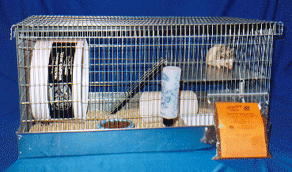 This level is designed to accommodate clipping one of our
popular

Toasty Tents

to
this level if you desire!
Our years of hedgehog experience has been incorporated into the design of this setup. We recommend this deluxe cage set up as it is the best value for your money and the best home for your hedgehog!
All this for only $130!
** NOTE:  If you purchase on of our DELUXE HEDGEHOG CAGE SET UPS, and would like to   upgrade to a HEFTY HEDGEHOG PRO WHEEL,
we can certainly do that for a simple $10 up grade fee.
---
We accept VISA & MasterCard

    All of our cages can be sent to your door for a $40 s/h fee.
We accept all major credit cards over the phone between 8 & 8 CST.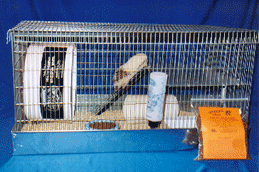 or you can send a money order
made payable to:
Vickie Jester
P.O. Box 971
West Chicago, IL 60186
---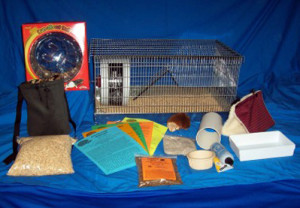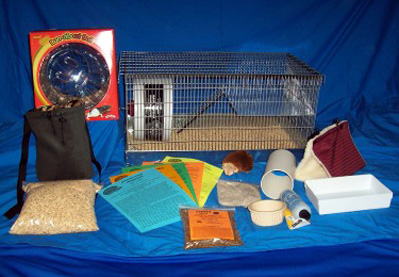 If you are considering purchasing one of our baby hedgehogs, you will want to check out the terrific SPECIAL OFFER that we have for our customers,
on a complete
Deluxe Hedgehog Supply Package
You will save over 22% off the regular retail price!
And you will have the peace of mind that your new buddy is going home with
a proper BABY HEDGIE LAYETTE!!!!
_________________________________________________________________________________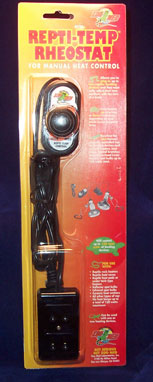 Hedgehogs are dry, arid, desert creatures that like it warm in their environment. We get a little nervous if our hedgie's habitat gets much cooler than 70 degrees. Having a supplemental heat source in the winter months is recommended in colder locations. Searching for an economical and easy way to maintain a "warm spot" in our cages led us to discover two great products commonly used by reptile keepers: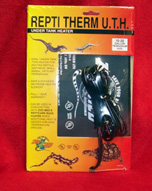 THE ZOO MED UNDER TANK HEATER
AND THE
ZOO MED REPTI-TEMP RHEOSTAT
The Under Tank Heater (UTH) sticks to the bottom of the cage, and is designed to maintain a warm surface temperature in one corner of the cage. (We recommend placing this heater in the far corner of the cage, away from the Whisper Wheel).
Since the UTH is designed to keep the cages of cold blooded reptiles warm, if used alone, it tends to be a tad too warm for most hedgies.  That is where the Repti-temp Rheostat comes in. The Repti-temp is a manual control rheostat. Just plug the UTH into it. The Repti-temp Rheostat allows you to turn a dial to adjust the temperature of the UTH! Turn it up in the winter and down in the summer, depending on your inside house temperatures.
We sell both the ZOO MED UNDER TANK HEATER  and the
ZOO MED REPTI-TEMP RHEOSTAT as a package deal
for  ONLY $50.00 + $6.00 shipping/handling
(NOTE: We recommend that you: 1. Do not guess at the temperature of your hedgehog's cage, and  always use a thermometer.   We include a small thermometer with the Heater/Rheostat Combo.  2. We include a couple narrow boards in order to elevate your hedgehog cage above the table top. This will create an airflow chamber around the UTH.)
---