Caring for hedgehogs as pets is easy!
Caring for your pet hedgehog is not complicated at all.  They are very hardy animals having few species specific health problems or required inoculations. Their dietary & environmental needs are simple to provide.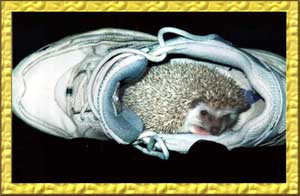 Hedgehogs typically live 3-5 years. We have personally known some 6 & 7 year old hedgies!
Wild hedgehogs are insectivores. In captivity, our pet hedgehogs need a food that is more convenient to feed than live bugs, but is equally as high in protein and low in fat content. For many years hedgehog breeders and pet owners relied upon certain poultry based dry cat foods as the main diet of hedgehogs. In recent years, Pet-Pro Products, a manufacturer of specialty exotic animal feeds, has developed an excellent line of hedgehog foods called SPIKE'S DELITE. This dry formula kibble style hedgehog food is the best on the market. Is is what we feed all our hedgehogs! HEDGEHOGS by Vickie is an authorized distributor of SPIKE'S DELITE brand hedgehog foods.
Visit our SPIKE'S DELITE page to discover why we use and recommend this excellent product!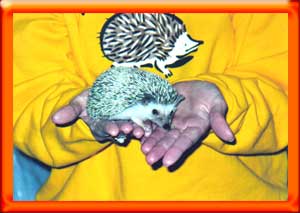 Among other treats, hedgehogs love insects! We recommend feeding meal worms and/or crickets to adult hedgehogs on a regular basis. (However, if  you have an aversion to feeding your hedgie bugs, he will do just fine without them.)
Hedgehogs drink out of a hamster style water bottle.
African pygmy hedgehogs are indigenous to dry arid environments. They prefer a temperature range similar to most homes (70-85 degrees). In cooler rooms a reptile style "under tank" heat pad can be provided.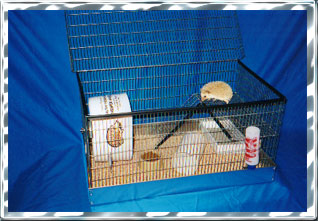 Hedgehogs do best if housed in airy wire cages. We market our own custom built wire hedgehog cage in three styles. Visit our CAGES page for more info.
Young hedgehogs frequently can be taught to use a litter box in one corner of their cage. Our starter cage set ups all include a litter box & litter. (See our CAGES page.)
Hedgehogs like a dark quiet place to sleep. Our cage set ups include a PVC tube, which works great for this purpose. Another excellent addition to the hedgehog's home is a "Toasty Tent". These fleece lined hiding places are a favorite of our hedgies! Available in a variety of colors, you can check them out on our TOASTY TENT page.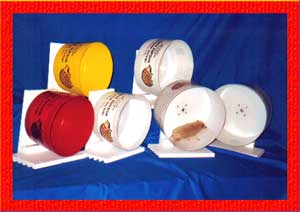 Hedgehogs just LOVE to run on wheels! We provide our hedgies with our own brand of hedgehog wheel called, THE HEALTHY HEDGEHOG WHISPER WHEEL. Visit our WHISPER WHEEL page to see why these wheels are the very best available for hedgehogs!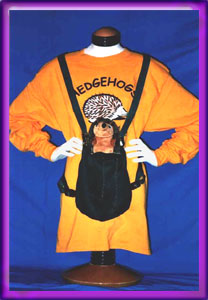 The first 3-4 weeks that your baby hedgie is in your home is the most critical time for bonding and socialization. You will need to plan on spending at least one short bonding session with your hedgehog everyday for the the first 4-6 weeks to establish trust. During this formal bonding period we will eventually want every interested member of the family to spend some time with  your new hedgehog buddy.
Our SNUGGLE SACKS are an excellent tool for facilitating the bonding stage.  Learn more about our SNUGGLE SACK here!
If you are going away for the weekend… your hedgehog will do just fine with a bigger bowl of Spike's Delite food and an extra hamster water bottle!
To see pictures of some of our hedgehogs currently available for purchase, check out our HEDGEHOGS AVAILABLE page.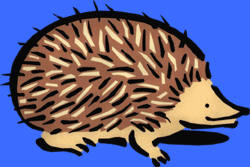 Has put together a hedgehog 
GOODY BAG INFO PACK


This package is full of useful Hedgehog Information.
It includes:

Our detailed Hedgehog Care Instructions – This 6 page synopsis details our many years of living with and caring for hedgehogs. It is full of tips and information only hands on experience can provide.

An assortment of other hedgehog literature

Vickie's Hedgehog Coupon Book

– Contains many $$$ saving special offers which can be applied to our products, as well as to our livestock.
Our Hedgehog Goody Bag Info Pack is available for a $5.00 shipping/handling fee.
The fee is refundable on your first order!
Send check or money order made out to:
VICKIE JESTER
PO Box 971
West Chicago, IL 60186
Just request THE GOODY BAG INFO PACK!
*********