And here is what some of our customers
are saying about our hedgehogs:
Vickie and Gary made the transition of our hedgehog from their loving home to ours very easy. When Zachery and I went to pickup our new pokey pal, they sat us down and explained the "do's and don'ts" of hedgehog ownership very carefully. And then they actually showed me using their personal hedgie "Tootsie" as a demonstration. They send each new owner home with a detailed guide in case you forget something. I find the internet a great resource but when a hedgehog breeder shows you the way she has been raising her babies for 14 years, that is something else! Though it has only been one day, "Hoggie" has already started showing some of his amazing personality. I'm really looking forward to this awesome bonding experience and there is no way this little guy would be this way without people as knowledgeable and friendly as the Jesters.  ~  Leigh
"Thanks for all of the good hedgehog info!" ~ Cailin
"We are thoroughly enjoying "Domino". We think that he is absolutely adorable."  ~ Anita, Kristen, Erik and Hayley
"Hunter" really likes my husband and my husband really likes "Hunter". I would like to thank you from the bottom of my heart for sending two beautiful animals that have taken a big place in our hearts!"  ~ Julie
"We are absolutely in love with "Oliver". He is beautiful!!!… What a sweetie the little guy is!… Vickie, I  must tell you how impressed I am with the caliber of ALL of your materials…. You are obviously a very conscientious person and please tell your husband, Gary, for me that the hand-outs he wrote were very helpful in preparing us for "Oliver's" arrival in terms of what to expect."  ~ Ann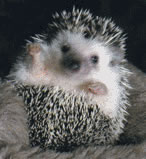 "I got the hedgehog right on time and everything went well. Thank you for all that you did to help me get him."  ~ April
This is a picture that April sent us of her Hedgehog "Lil' Foot".
"I read all of the information on your web site and in your GOODY BAG INFO PACK and it was great.  I will speak with you soon about acquiring a hedgie for my own!"  ~ Beth
"Vickie… I am very impressed!"  ~ Rebecca
Thank you for all of your help. I am absolutely in love with my hedgehog (Toby)- he is an absolute angel!
Thank you again.  ~ Louisa
"Thanks for all that you did to help us obtain a little "hedgie" for my 12 year old son, Spencer. He's thrilled to have another hedgehog back in his life. You have a fine business, and all the things you coordinated and took action on worked out smoothly. This tells me you and your company are professionally run. Thanks you again for helping to "spark" things along. We have already had fun with our newest family member."  ~ Scott
"I really wanted you to know what an incredible experience this has been already… I must say that your husband was definitely a deciding factor in my final decision to purchase our hedgehog from you. I am happy to announce that our hedgehog, Mya, arrived at the airport, and it was flawless.
My son is on cloud nine and could not be happier.  What a wonderful disposition she has. I am trying to talk my wife into buying another one for me. I just wanted to let you know that we got her and I am so very glad we did. " ~ Carl
Our little guy is so precious. I actually think Mark, my husband, is the most smitten with him. Thanks again for our precious new pet and all of the necessary equipment! We are definitely set up.  ~ Wendy
I purchased a hedgie from you at the August 7th show, and I just want to say that she's turned out to be the best pet I've ever had. I'm so happy! Thank you for taking such care in breeding and raising your babies!  ~ Megan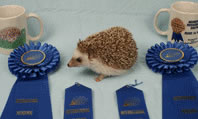 This is a picture of "HBV CAMILLLA".
CAMILLA is owned by INTERNATIONAL HEDGEHOG ASSOCIATION licensed judge FLOYD APRILL of Milwaukee, Wisconsin. CAMILLA is a very special and famous hedgehog. She is an IHA PERMANENT GRAND CHAMPION. This is an honor few hedgehogs obtain.
CAMILLA was bred and raised by us at HEDGEHOGS by Vickie in 1996. She was purchased by Mr. Aprill as a youngster in early 1997. This picture was taken of HBV CAMILLA in June of 2004. She had just won GRAND CHAMPION SENIOR FEMALE at both the AM and PM MISSOURI HEDGEHOG SHOWS! She was 7 years old at the time of this win. At a recent routine vet check, the doctor stated that she looked like a perfectly healthy 2 year old!
HBV CAMILLA'S other show winnings include:
Grand Champion Senior Female

at the 2000 Milwaukee Hedgehog Rendezvous

Reserve Grand Champion Adult Female

at the 2002 Go Hog Wild show in Chicago
Numerous other 1st Place winnings
CONGRATULATIONS TO CAMILLA AND FLOYD FROM VICKIE & GARY!!!!
WE LOVE TO SEE "OUR KIDS" SUCCEED!